01 January 2005
Rocco on the beach on the first day of 2005...
2005 is here!!! Today did not go exactly as planned but that's okay too. I slept in (fireworks didn't end till after 1:30am) but once I got up I did my 3.5 mile run. Then the rainy dreary day just knocked me out. I ended up laying around reading all day. I hope this storm passes tonight so I can go for a bike ride tomorrow - I really want to go for a bike ride!!!! I did manage to eat fairly well; more important is I logged it in. I tend to get so lazy on the weekends and not log my food in but I did today - yeah me!!!!

I did pick out some races for the first few months of 2005. I have a 5k next Sunday. That's only 3.1 miles and I ran 3.5 today so I'm good for that. The next one is Feb 6th, an 8k or 4.9 miles. Then there's the Great Aloha Run on Feb 21; 8.15 miles. I have decided that I need to enter races in order to really keep my training up. I have also decided to do the first triathalon of the season in Lanikai. I'm stoked. This is really going to be a great year.

So, we are off to a good start and I'm very optimistic about the rest of the year!!!!



31 December 2004
Nala cruising on the beach on New Year's eve..
I've been reading through all the blogs and everyone is doing an end of the year recap; some quite interesting. A benifit of living in Hawaii is that everyone celebrates New Year's before you do and you can read everyone's blog before you blog. So I guess I'll take a few moments and look back at the year 2004 before looking forward to 2005.

Okay a slight delay. We just got back from walking the dogs and cruising on the beach. I need to get them all fed and doped up before 7 pm, well before the fireworks start.

So, lets look back on the year. It was not such a great year; at least in my opinion. Lots had happened in 2003 and I think the fallout didn't really hit until 2004. On the positive side though; I lost around 20 lbs this year!!
I completed my first triathalon!!
I conquered (to a large extent but not completely yet) my spontaneous spending habit.
I have learned to view my body in a very different way (and continue to work on this every single day)
I have become very happy with my life and realized how lucky I truly am.
I am truly glad it's over!!!

Looking towards the new year; much of which I covered in a previous post. I have a few goals: Lose the last few pounds and enter 4 sprint triathalons. I have begun a running program hopefully this weekend I'll begin my swimming program. I have the new race book and I'm going to pick out some races tonight and enter them. I think I'll also spend some time on my diet. I need to spend my calories wisely; I'll work on them tonight.

I decided this morning that I am beginning the new year with money in the bank, all my bills paid, and a full tank of gas; it doesn't get any better than that!!!!!

Know it's off to feed the dogs and get them ready for fireworks.

Have a great 2005!!!!!!!!!

26 December 2004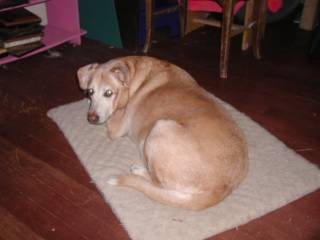 Rocco cruising with me as I blog.
I contemplate the year that's just past. A lot has happened, not all of it good, and frankly I'm glad it's ending. 2005 is already on a much better note than 2004 and I believe it can only get better. The things that plagued me all year are already turning out to be a non-issue. I know that the turning of a new year does not mean anything special or magical but I can't help but feel that this year it will be different. Maybe it's just the psychological effect of a new beginning, a new start, a clean slate. Nothing is more exciting than a fresh start and this year really feels like I'm getting that. I am looking forward to 2005 like I haven't looked forward to a new year in a long time. It's going to be an awesome year and I just can't wait to get on with it.

So tomorrow morning starts my eating/exercise regimen again. I can't wait to get that going either. My period is over so nothing will keep me down for the next couple of weeks. I wonder if I could hit 155 by January 8th??? That would be really awesome. I think I will really work towards that the next 2 weeks :) Okay, I'm really stoked and positive about future; both short term and long term; and am ready to tackle it full on. Let's go!!!!!


It's amazing the things you get used to. I am entering my 10th year of being a teacher and I honestly cannot remember how I worked all...

The muscles used in pull-ups: The muscles used in push ups: The muscles used in a kettlebell swing: That is what I have, a seriousl...

My foot hurts. Specifically my left foot hurts on the inside of the heel, it's almost the Achilles tendon but not quite. Right there w...